Digital Library of University of Colombo School of Computing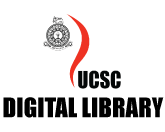 UCSC Digital Library
Welcome to the UCSC digital library.
Our digital library provides free access to a rich collection of undergraduate and postgraduate dissertations, electronic journals, e-books, and institutional publications. Not only all the students and the staff of the UCSC but also all the communities can fulfill their information needs by accessing this digital library, remotely.
Communities in UCSC Digital Library
Choose a community to browse its collections.